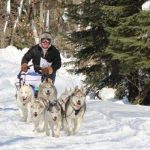 Have you ever met a dog sled team? How about 11 all at once?
This Family Day weekend, bring the kids to Seguin, just South of Parry Sound, to experience an event you won't find in Southern Ontario! 
Come out to the Village of Humphrey, and join the fun of the Seguin Sled Dog Mail Run!  For the 32nd year in a row, dog sled teams will converge on this small community to deliver unique "Sledvelopes" to people around the corner, or around the globe!
The day starts off with breakfast at the Humphrey Arena, and assembly of the teams. Get here early, so you can purchase your $3 Sledvelope, and have it ready for the teams to deliver it to the post office in Rosseau.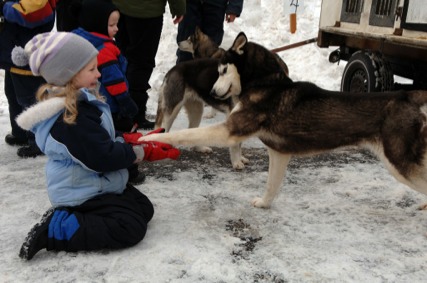 Spend some time meeting the 11 sled dog teams that will make the 17km trek through the woods with your mail!  Don't miss the teams leaving at 9:45am!
After the teams depart, head down the road to the Town of Rosseau and enjoy the Rosseau Farmers Market vendors who will be set up at the Rosseau Memorial Hall from 10am – 2pm. Lunch will be available downstairs, the vendors will be set up upstairs.  The teams will start arriving in Rosseau at 11:30.
Dog sled rides start at 11am, as well as a Skijoring demo by Rusty the clown. White Squall will also be there with kicksleds for you to try out, or just watch a demo.
See below for a map of the event locations. We look forward to seeing you in Seguin on Saturday, February 13th!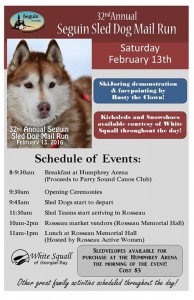 Can't make it up? That's ok – you can still purchase a sledvelope to be sent to someone special!  Just mail a cheque to Seguin Township at 15 Humphrey Drive, Seguin, ON. P2A 2W8. Cheques should be made payable to Seguin Township and each sledvelope costs $3. Please include the name and address of each sledvelope's recipient. Each sledvelope includes a letter, but if you'd like to include your own note or letter in the sledvelope, please be sure to include this with your cheque. If you have any questions, please contact JJ at 705-732-4300 x263.
Don't forget to like the Seguin Sled Dog Mail Run page on Facebook to watch for updates and images of the event!