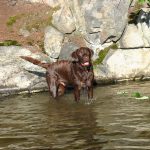 If your family includes a pet, you know that travelling with your furry companion can be a challenge.  There are 2 kinds of accommodations when it comes to pets; pets not allowed and pet friendly.  Not all pet friendly accommodations are alike, and it makes good sense to plan well in advance and speak directly to the accommodator regarding their policies even when you reserve online.  Simply because an accommodation allows pets doesn't really mean it is a good choice or a workable solution for your furry family member.  Some places have weight restrictions, breed restrictions, extra fees or no area that the pet may actually be.  In Parry Sound, there are a number of truly pet friendly options, we have compiled a few for you and have included their policies.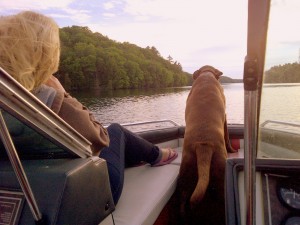 Sunny Point Resort, Cottages & Inn
considers themselves to be among the finest pet friendly cottage resorts in Canada.  Trip Advisor has ranked Sunny Point #1 in Parry Sound since 2009 and in the top 20 of all Family Destinations in Canada since 2012.  Pets are welcome in any of Sunny Point's 10 waterfront cottages.  (Pets are not allowed in the inn or inn area which includes the Grand Muskokan rental).  Significantly at Sunny Point, the owners are pet owners and are most welcoming of all dogs of any friendly breed without size restriction and up to 2 dogs per cottage.  Dogs must be on their leash when exploring the resort which includes a lakefront trail and back trail.  Only 8 of the 84 acres are off limits.  All the cottages are waterfront and each cottage has its own private dock.  This is a great area for your dog to enjoy swimming with the family.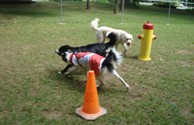 The
Parry Sound KOA Campground
is another fabulous pet friendly option for those looking to camp or stay in a cabin with their pets.  Pets must remain on leash in public areas, but unique to the KOA is "Camp K-9", a designated off leash area for canine antics and owner socializing.  Pets are permitted in rental cabins, apart from the deluxe cabins and rental trailers.  Located adjacent to the beautiful Seguin Trail, the KOA is an ideal centralized location for long walks on the extensive
Park to Park Trail
system.  In addition to being truly pet friendly, the KOA offers many activities for the outdoor enthusiast; enjoy the heated pool, trampoline, mini golf, gift boutique, wagon rides, bingo, two nearby sandy beaches, playgrounds and more.
Many thanks to Andy, Marley for the insight about travelling with pets!
Make it a weekend getaway and find a hotel nearby. Add one one of these great tours and attractions to your getaway to the Parry Sound Area of Explorers Edge.
Explorer Tip
Parry Sound hugs the shores of the world's largest freshwater archipelago, known as the 30,000 Islands. In 2004,UNESCO designated the area as a World Biosphere Reserve, the Georgian Bay Biosphere Reserve.
Let us help you plan your next summer vacation. Visit today and explore the world's largest freshwater archipelago, known as the 30,000 Islands. Explore, Eat, Stay, Discover Parry Sound, Ontario Georgian Bay.