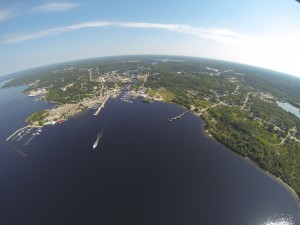 Parry Sound is a beautiful town, located on the shores of an inland "ocean", Georgian Bay.  The area boasts many beautiful beaches, parks and trails.  It is ideally situated just off highway 400, in the Southermost part of Northern Ontario.
This charming waterfront town is within a UNESCO Biosphere Reserve, and home to 6,500 residents in the town itself, and over 14,000 in the immediate area. In summer, the population grows to nearly 100,000 people with seasonal residents, making for a very interesting dynamic!
The area boasts several Provincial Parks and unlimited water for boating, canoeing/kayaking, fishing and things to do.
In the winter, Parry Sound has a thriving snowmobiling, ice fishing, skiing and snowshoeing industry.  The lakes generally freeze by January, and snow abounds in the area!
In the summer the area swells with cottagers and visitors, who have discovered the beauty and hospitality of the region.