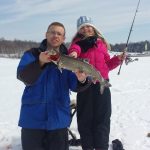 The air stood still, was cold, and chimney smoke was travelling straight up skyward.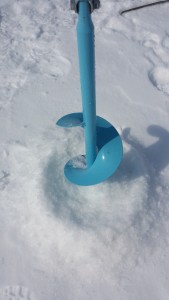 To some, this means that winter has finally settled in, but to many others, it means that a whole new way to enjoy our beautiful Canadian winters is about to begin. The lakes are freezing over, time for a little ice fishing!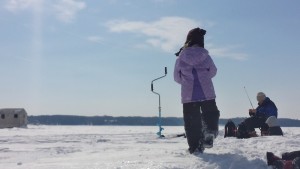 A word on ice thickness and safety; four inches is safe to walk on, eight inches and you can snowmobile out and 12 inches gets your light truck on to the ice. To find out ahead of time call your local bait shop before you go out. Safety is everything.
Here in the Parry Sound area, you can chase after Walleye, Crappie, Perch and Pike in our numerous inland lakes. Most of these can be caught on simple jig and minnow combinations with species size to bait size ratio taken into account. Canadian Tire has an excellent selection for most species.
Out on Georgian Bay Lake Trout are highly sought after. They are down between fifty and eighty feet. Aggressively jigging flashy spoons and glow in the dark presentations tipped with a shiner minnow work best. To find local hot spots talk to the bait shop owners like Diver's Nook. The better you do, means that they will sell more bait, spoons and equipment! Helping you helps everybody! Once you settle on a location, look at where the people are. Ninety percent of the fish are in ten percent of the water.
Anglers tend to congregate in known fish hangouts, just remember to show respect and not crowd those that arrived there first!
Since many of the lakes have roads to them, ice fishing can be an affordable way to walk out and enjoy the outdoors for some private time or family fun. Close to Parry Sound, popular ice fishing destinations that you can get to without a snowmachine are The Big Sound, and Parry Sound Harbour. Inland there are many lakes that are accessible by foot or snowmachine, such as Mill Lake, Kapikog Lake, Otter Lake, Lake Manitouwabing, Whitestone Lake and Lake Manitouwabing.
In Parry Sound, we have several accommodators close to lakes, so you don't need to have a lot of gear. Try Bayside Inn or Mariner's Rest B&B, all located in the Town of Parry Sound, and within walking distance of great ice fishing. Out of town, we have several resorts that are open year-round with who you can stay. Have a look here to find them!
Local Places to Eat – Dine
Explorer Tip
Parry Sound hugs the shores of the world's largest freshwater archipelago, known as the 30,000 Islands. In 2004,UNESCO designated the area as a World Biosphere Reserve, the Georgian Bay Biosphere Reserve.
Let us help you plan your next vacation. Visit today and explore the world's largest freshwater archipelago, known as the 30,000 Islands. Explore, Eat, Stay, Discover Parry Sound, Ontario Georgian Bay.
Make it a weekend getaway and find accommodations near by. Add one one of these great tours and attractions to your getaway to the Parry Sound Area of Explorers Edge.
Sign up here to receive The Parry Sound Tourism newsletter to get tips, tales, deals and travel packages for your next adventure in Parry Sound