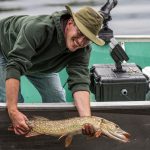 There has never been a better time to introduce a friend to fishing! Ontario Family Fishing Week runs through July 4th to July 19, 2020 – two weeks! This is a province-wide opportunity for Canadian residents to fish Ontario waters without the otherwise mandatory fishing version outdoors card. During all other time periods, Canadian residents between the ages of 18 and 64 years must purchase a valid fishing license to legally fish in Ontario.
There has never been a better time to introduce a friend to fishing! Find out more.
Parry Sound may be close to several million people, just two hours North – but there are still lots of fish to be had year-round in this area.
There are many charter operations you can hire to take you out for a day on the water, where you can experience the thrill of landing the big one!
The main species in the area include Northern Pike, Rainbow Trout, Walleye (aka Pickeral), Large and Smallmouth Bass.
In fact, the fishing is so good, even kids can haul in the big ones!
Other ways to experience West Parry Sound
Georgian Bay Sightseeing Tours
Majestic Landscapes of Georgian Bay by Pedal

Georgian Bay Adventures
Bear Claw ATV Tours – Georgian Bay's Ultiimate Adventure
Local Places to Eat – Dine
Make it a weekend getaway and find a hotel nearby. Add one one of these great tours and attractions to your getaway to the Parry Sound region of Explorers Edge.
Explorer Tip
Did you know the The Rotary Algonquin Regiment Fitness Trail is a Georgian Bay Biosphere Reserve Amazing Places. Georgian Bay is AMAZING, nominate your Favourite Place.
Let us help you plan your next summer vacation. Visit today and explore the world's largest freshwater archipelago, known as the 30,000 Islands. Explore, Eat, Stay, Discover Parry Sound, Ontario Georgian Bay.
Photo courtesy of Sights, Parry Sound. Video courtesy of the Georgian Bay Biosphere