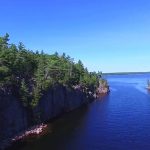 One of Parry Sound's most beautiful sights, Hole in the Wall is located a short distance from the Parry Sound Town Dock. We invite you to discover Parry Sound, the heart of the 30,000 Islands on Georgian Bay. Explore our beaches, lakes and miles of shoreline, all within a short distance of places to stay, things to do and great dining.
Parry Sound offers an amazing travel destination for all types of adventurers! Whether you are looking to paddle, fly or travel by boat, let us help you find the perfect tour to suit your style.
Video by: iSparkSolutions
Georgian Bay Tours – Things to Do
All aboard the Island Queen for a relaxing cruise through Georgian Bay's charming inner islands. Beautiful scenery, great narrative, lots of room to wander, very relaxing – perfect for all ages. Book
Operating out of Parry Sound's beautiful downtown waterfront in the Heart of the 30,000 Islands, Georgian Bay Airways Ltd. offers several touring options to help you create a personal touch for your voyage.
Experience the 30,000 Islands on this excursion 'round the Big Sound.' A fully licensed bar, snacks and BBQ items are available for your cruising pleasure.
Offers a variety of paddle rentals and guided tours. Contact them if you have a desire to explore the thousands of windswept pine islands of Georgian Bay and a trip of a lifetime!
Guided Outdoor Adventures – Things to Do
Ontario Sea Kayak Centre
Bear Claw Tours – ATV Adventures on the Canadian Shield
Parry Sound Bikes
Diver's Nook
Georgian Bay Biosphere Reserve
Explorer Tip
Georgian Bay is a large bay of Lake Huron, located entirely within Ontario, Canada. It is a part of the Great Lakes which is the world's largest freshwater lake that is home to many cottages and campgrounds all along the shorelines for a perfect summer vacations.
Let us help you plan your next summer vacation. Explore, Eat, Stay, Discover Parry Sound, Ontario Georgian Bay