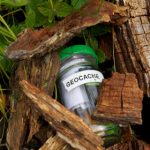 The coordinates are set and scenery is stunning. Outdoor enthusiasts can take advantage of the beautiful landscape around Parry Sound by going on a geocaching adventure, an outdoor treasure hunting game using GPS-enabled devices that is ever-gaining in popularity, with hundreds locations currently marked.
This fun sport involves participants using their electronic devices and travelling to specifically-set GPS coordinates in an attempt to find the geocache (container) at the desired location. There are some ground rules:
1. Sign the log book.
2. If you take something from the geocache container, you must leave behind something of equal or greater value.
3. Log your find online.
Geocaching is a fantastic way to discover the quintessential wilderness that exists in the Parry Sound area. According to Geocaching.com, near the docks of Parry Sound there are over 250 geocaches in a 5 mile radius. With a foot of snow on the ground, the best method of travel in the winter to try geocaching would be by snowshoe, with rentals provided by outfitters in the area.
Parry Sound Boating has also been placing some caches around  Georgian Bay. Click here for more details!
Download the free app here: http://www.geocaching.com/mobile/
Spend a weekend geocaching by booking your accommodations here. The Parry Sound region offers the tranquility of the wilderness and with geocaching you will find yourself on the path less travelled, discovering breathtaking scenery as you go.
Book your stay today and discover something new in Parry Sound!