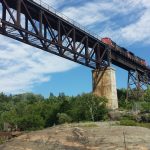 Parry Sound offers railfans a variety of experiences, whether you are into history, photography or just the opportunity to view and record trains.
Home to Ontario's longest trestle bridge (the Canadian Pacific Railway trestle) bridging the mouth of the Sequin River at Georgian Bay is 1,695 feet (517 m) long and 105 feet (32m) high. The bridge took three years and 5,000 men to build, and the first train passed over it in June, 1908.

The Observation Tower is a great place to get shots of trains going over this trestle.
Both CN and CPR have lines going through town, and in December 2005, they implemented a plan to reduce train congestion on their parallel lines in central Ontario through the Parry Sound area. Consequently, westbound trains from both railways use the CP tracks while eastbound trains use the CN tracks.  For more information on trains and trainspotting, visit this Parry Sound Rail Fan site.
From a swing bridge to double level crossings, rail yards and tracks along bodies of waters; historically designated former station houses and lots of former railway workers, a visit to Parry Sound can definitely keep you busy for several days! So, grab your radio, camera and Trackside Guide, and hit the rails for a unique rail adventure!
For more information on train spotting in Parry Sound, become a Parry Sound Railfan on Facebook!
Experience the Great Canadian Wilderness along the shores of beautiful Georgian Bay in Parry Sound, Ontario.
Georgian Bay Sightseeing Tours
Parry Sound Charter Fishing and Taxi
Majestic Landscapes of Georgian Bay by Pedal

Georgian Nordic Ski Club (Bike Park)
Georgian Bay Adventures
Bear Claw ATV Tours – Georgian Bay's Ultiimate Adventure
Local Places to Eat – Dine
Make it a weekend getaway and find a hotel nearby. Add one one of these great tours and attractions to your getaway to the Parry Sound region of Explorers Edge.
Explorer Tip
Did you know the The Rotary Algonquin Regiment Fitness Trail is a Georgian Bay Biosphere Reserve Amazing Places. Georgian Bay is AMAZING, nominate your Favourite Place.
Let us help you plan your next summer vacation. Visit today and explore the world's largest freshwater archipelago, known as the 30,000 Islands. Explore, Eat, Stay, Discover Parry Sound, Ontario Georgian Bay.
Photo courtesy of Sights, Parry Sound. Video courtesy of the Georgian Bay Biosphere