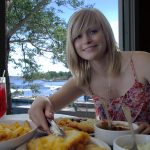 Peak Your Adventure in Parry Sound!
Experience Ontario's #GreatCanadianWilderness in Parry Sound! Whether you eat, stay, or play, snap a picture, post it on Facebook, Twitter or Instagram with the hashtag #MyParrySoundAdventure for a chance to win. Share your outdoor adventures in Parry Sound.
THE PRIZE
The owner of the winning photo will receive a $100 prize. One photo will be selected and the winner will be announced on August 5th, 2016.
THE RULES
Photos must be taken in the District of Parry Sound, Ontario. Photos must be non-offensive and tasteful and must be the property of the person(s) submitting. Photos must be taken and submitted between May 1st and August 1st, 2015.
Do you have a favourite place you visit? Have some amazing images to share with us? Bike routes? Fishing,  Cycling, Boating, Hiking, Kayaking, Golfing, Shopping, Dining, Sun in the Fun, Concerts?  We'd love to see them! Email your pics to us at visit@parrysoundtourism.com or post them on Twitter, Facebook or Instagram with the hash tag #MyParrySoundAdventure.
We look forward to seeing you in Parry Sound as we celebrate the arrival of summer! Questions about travel in Parry Sound? Email visit@parrysoundtourism.com