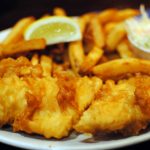 If there's one dish that Parry Sound is known for it is Fish and Chips.  Georgian Bay is famous for delicious Pickerel (aka Walleye) and there is no better accompaniment to a fresh, flaky fillet than a side of crispy french fries.  Fisherman and diners alike flock to area restaurants to feast on this delicious meal .  Also served in the area is delicate, mild Perch, flavorful Whitefish and delicious Lake Trout.
Henry's Fish Restaurant on Frying Pan Island is a Georgian Bay tradition.  Famous for their pan fried or delicious battered pickerel, guests flock to this one of a kind destination to enjoy the freshest fish available.  Its not just the locals who appreciate the quality at Henry's, both the New York Times and Saveur have written about the amazing meals.
Henry's is only accessible by water, and that's part of the fun!  Parry Sound Fishing Charter provides water taxi services to and from Henry's and Georgian Bay Airways offers a Fly and Dine package that includes return airfare in one of their seaplanes and the meal at Henry's.  Open from the May long weekend until labour day, Henry's on Frying Pan Island is a thrill for the whole family.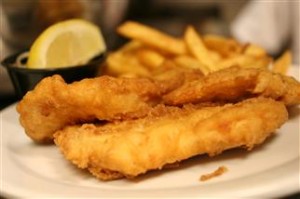 At Wellington's Pub and Grill the choices of fish are plentiful!  Serving both Georgian Bay Pickerel and Ontario Whitefish pan fried or blackened, the folks at Wellingtons have something for everyone.  If local fish is not for you, try one of their delicious Halibut, Haddock or Cod meals.  At their Friday night fish fry, there are 6 different fish meals starting at just $10.99.
While at Wellington's, guests can take in the areas largest collection of historical photos, chronicling the Town of Parry Sound throughout the last century.