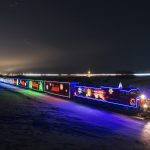 This past Sunday the CP Holiday train rolled through Parry Sound!
The train was beautiful, and many people came out to see it, bringing non-perishable food donations as well.
The Holiday Train travels across North America, making stops along the way, offering free concerts. The day it came through Parry Sound, it made 8 stops, starting in Vaughan, at 10am, and ending in Sudbury at 10pm!  Over the three weeks of the program, the musicians on board the trains will play more than 150 free concerts from their boxcar stage. This year CP Rail provided a cheque for $7,000 for one of our local food banks – Harvest Share.
The giving doesn't have to end with the passing of the train though! Don't forget your local Food Banks, who are working double overtime right now to make sure everyone has a full belly, and all kids get a gift for Christmas!
In Parry Sound, we have 2 Food Banks: Harvest Share (705) 774-9111, located at 22A Miller Street and The Salvation Army (705) 746-5391, located at 61 Gibson Street.  Both will happily accept your cash or food donations!
If you missed the train, and are in Western Canada, check out the schedule to see when the train will pass by You!  If it has already passed, follow our page on Facebook, and we'll give you plenty of notice for next year!