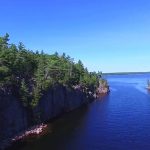 CANADA DAY CRUISE
Friday, July 1 2016 – 7:00 PM
End of the Road is back with songs of Newfoundland and the sea. A fabulous fireworks dispaly brings the evening to a close
SWING CRUISE
Monday July 18, 2016 – 6:00 PM
The Hogtown Syncopators are five of Toronto's finest musicians, playing toe tapping jazz from the swing era.
CELTIC SOUNDS CRUISE
Monday July 25, 2016 – 6:00 PM
Cape Breton's captivating young band Coig has won CAnadian Folk Music and East Coast Music Awards.
JAZZ CRUISE
MONDAY, AUGUST 1, 2016 – 6:00 PM
As the Island Queen cruises into the dusk, clarinetist Bob DeAngelis leads a tribute to the King of Swing, Benny Goodman.
TICKETS AVAILABLE ONLY AT THE FESTIVAL OF THE SOUND
Festival Box Office:
The Station Gallery
1 Avenue Road
Parry Sound
Phone 705-746-2410
Online:
www.festivalofthesound.ca
Click the Online Sales icon for convenient ordering for all Festival events.