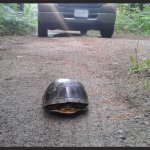 It may (pun intended) still be cool out there but the reptiles and amphibians in the Georgian Bay Biosphere Reserve are already starting to wake up and stretch their legs. Let's remember to take an extra look on the roads when we drive. Check out this short video for the best ways to move a turtle off  the road.
What else is happening these days?
1. Blackflies are in their larval stage, getting ready to grace us with their presence. Blackflies spend their early life in fast flowing waters, unlike mosquitoes which start life in standing water.
3. Earlier bloomers are taking advantage of the sun before the leaves on the trees come out! Check out this beautiful collection of spring bloomers from Ontario Wildflowers.