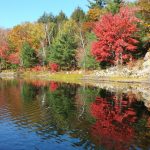 1) With our lively events at the Charles W. Stockey Centre, sparkling clear weather, and brilliant fall foliage soon to be on display , fall is a wonderful time to visit Parry Sound. With so many scenic drives in the area you won't want to get out of your car.  Check out the scenery on Highways 69, 141, 518 and 124.  You can also check out the colours from the Museum on Tower Hill's scenic lookout.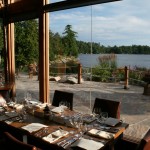 2) The Ridge at Manitou is serving a bountiful Thanksgiving Dinner on Sunday, October 9th. The meal includes turkey, all the fixings and pumpkin cheesecake- reservations are recommended and seatings are at 4 and 6:30pm.  View the full delicious menu here.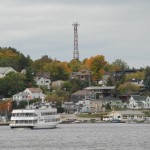 3) Georgian Bay Airway's is offering a special fall colours tour; see beautiful Georgian Bay , Lake Manitouwabing, Otter Lake and Mill Lake from the air, or check out their fall specials that include Romantic Fall Getaway, Mid-Week 2 Day Fall Getaway and a fantastic Fishing Adventure Getaway .  Contact the folks at GBA for this weekend's available flight times.
4) White Squall is having a sale!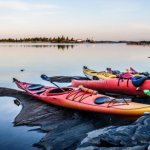 Great end of the season deals on boats and boards.  Drop by their paddling center for renowned service and awesome prices on canoes, kayaks, stand up paddle boards and more.  With free test paddling every day, why not stop in and take one for a spin?
5) Beautiful Sunny Point Resort is the perfect long weekend getaway for couples or families.  If you are  looking for fresh air and clean water in a worry free, family friendly (yes pets too!) environment, then Sunny Point on Otter Lake is for you.  Contact the resort for last minute Thanksgiving availability.

Sometimes Thanksgiving dinner tastes a whole lot better when you let someone else do all the cooking. Celebrate friends and family this Thanksgiving at one of the many restaurants across the Parry Sound region serving up traditional wholesome turkey dinners.
Bay Street Cafe: Saturday, October 8th & Sunday October 9th
Grand Tappattoo: Sunday, October 9th
Make it a weekend getaway and find a hotel nearby. Add one one of these great tours and attractions to your getaway to the Parry Sound Area of Explorers Edge.
Explorer Tip
Parry Sound hugs the shores of the world's largest freshwater archipelago, known as the 30,000 Islands. In 2004, UNESCO designated the area as a World Biosphere Reserve, the Georgian Bay Biosphere Reserve.
Let us help you plan your next summer vacation. Visit today and explore the world's largest freshwater archipelago, known as the 30,000 Islands. Explore, Eat, Stay, Discover Parry Sound, Ontario Georgian Bay.