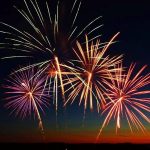 Canada Day is a great time to visit the Parry Sound area. Our communities are hopping with lots of action all weekend long! The annual Canada Day celebration and fireworks display takes place throughout the Parry Sound area all weekend long!
Celebrate Canada Day in the heart of Parry Sound! Enjoy family fun and free activities, beginning at 11 AM in Market Square Park for bouncy castles, face painting, balloon artists, a BBQ hosted by the Optimist Club of Parry Sound, and entertainment for the family! Grab some food and do some shopping in the Vendor Village, and don't miss out on the entertainment scheduled throughout the day at the Town Dock Bandshell. And of course, be sure to catch the breathtaking fireworks display at dusk!
Canada Day entertainment in the Town of Parry Sound includes:
Special Waterfront Farmers Market
The Parry Sound Farmers Market is a casual, open air, seasonal market located by the bay in beautiful Parry Sound that offers fresh Ontario produce & meat, artisan bread, honey, baked goods, prepared foods, pet products and crafts; all from the 7 local municipalities.
Kids Zone at Market Square  9 AM – 4 PM
Bands on The Bay 11am – 2pm
Join us at the Stockey Centre on Monday July 1st to celebrate Canada Day with a full day of free concerts!  Featuring Terry Little and the Rhythm Boys (1 – 2:30 PM), Briar Summers (3:30 – 4:30 PM), Kick Ptarmigan (7 – 9 PM).
Live Entertainment and Opening Ceremonies at the Bandshell
Join us at the Town Dock Bandshell for live music, and Canada Day opening ceremonies – including free cupcakes!
6 PM – Goodbye Riverview
7 PM – Opening Ceremonies and O' Canada
7:45 PM – Jessica Sevier
8:45 PM – Goodbye Riverview
Fireworks 10pm
Cap off your Canada Day by joining us at the Town Dock to take in the breathtaking fireworks display over the scenic Parry Sound waterfront!
Annual Festival Of The Sound Island Queen Cruise
Celebrate Canada Day on the Island Queen with End of the Road and its lively mix of traditional,folk and Maritime tunes. A fabulous fireworks display brings the evening to a happy close. Departs at 7:00 pm and returns by 10:00pm in time for the fireworks. Buy tickets today!
Pointe Au Baril Celebrates CanadaDay
If you find yourself in Pointe Au Baril on Canada Day be sure stop at the Pointe Au Baril Community Centre and local waterways. The community has a  fantastic day planned! Click  here to view the full schedule of activities.
What better way to kick-off the summer and celebrate the Canada's birthday of this great nation. Parry Sound is only 2 hours north of Toronto and offers plenty of cool vacation spots. Book your Canada Day vacation in cottage country here.
Canada Day Celebrations in Orrville
Saturday, June 29, 2019 9:00AM – 2:00PM
BBQ, silent auction, kids auction, face painting, balloon animals, a bouncy castle, games for everyone, a line dancing demonstration and so much more! Then at dusk, a fireworks display at the baseball diamond in Orrville.


Image credit: Matt Downing
Things to Do, Places to Eat & Places to Stay…
Explore by Pedal

Georgian Bay Sightseeing Tours
Parry Sound Charter Fishing and Taxi
Georgian Bay Adventures
Bear Claw ATV Tours – Georgian Bay's Ultiimate Adventure
Local Places to Eat – Dine
Explorer Tip
Parry Sound hugs the shores of the world's largest freshwater archipelago, known as the 30,000 Islands. In 2004,UNESCO designated the area as a World Biosphere Reserve, the Georgian Bay Biosphere Reserve.
Let us help you plan your next vacation. Visit today and explore the world's largest freshwater archipelago, known as the 30,000 Islands. Explore, Eat, Stay, Discover Parry Sound, Ontario Georgian Bay.
Make it a weekend getaway and find accommodations near by. Add one one of these great tours and attractions to your getaway to the Parry Sound Area of Explorers Edge.
Sign up here to receive The Parry Sound Tourism newsletter to get tips, tales, deals and travel packages for your next adventure in Parry Sound