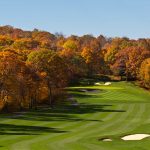 Discover Golf in Parry Sound this Fall.
If you were to create a checklist of the ingredients that contribute to a great golf design, you'll find them in Parry Sound's varied golf courses. Fluid course design and perfect greens; distractingly beautiful scenery; warm and welcoming clubhouses; and mouth-watering food: Parry Sound's wealth of golfing opportunities offers all of the above.
And there's no better time to experience it than the autumn, when prices drop, summer crowds thin, temperatures become more comfortable, and the surrounding forests are transformed into a painter's palette of brilliant hues.
"It's been a spectacular year for golf in Parry Sound. All of the area courses have been busy, which we can attribute to the great weather," enthuses Brent Robinson, Head Golf Professional and Manager at Parry Sound Golf and Country Club. "The weather promises to carry through into October, which means we have another month of great golf ahead."
Whether you're a novice at swinging the clubs or an avid golfer, there's a course to suit your abilities in Parry Sound. Many golfers begin at Deer Run Golf Course, which was designed in 1995 as a nine-hole course specifically for those of intermediate skill or who merely want a relaxing afternoon on the greens free from nerve-wracking obstacles.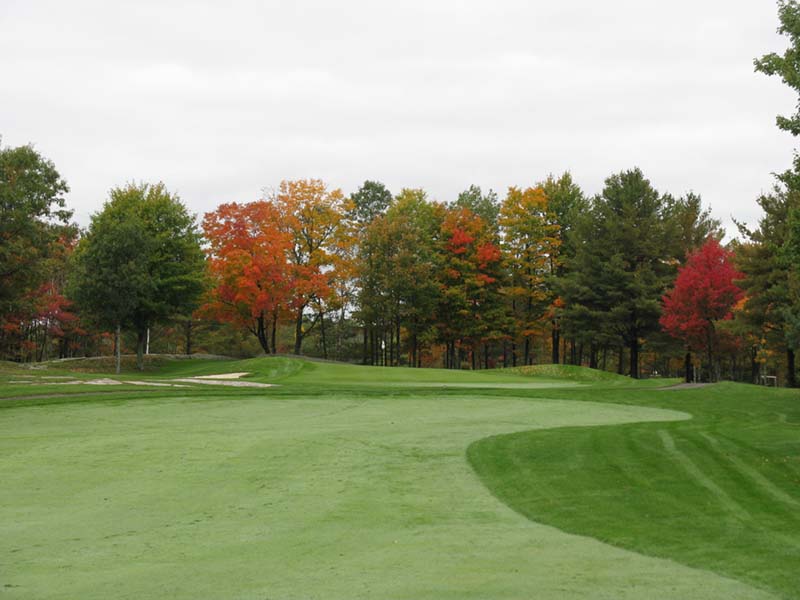 The front nine is geared to the casual golfer, with generous fairways and limited bunkering. Expansion in 2002, done with an eye towards the more experienced golfer, brought Deer Run up to 18-holes. The back nine is more challenging with some elevation changes, tighter fairways, and more frequent water obstacles for a course of 6,120 yards. The result was a relaxing, enjoyable experience with just enough variation to hold the attentions of even more capable golfers.
For those who want to immerse themselves in a sense of history, there's no better place than Parry Sound Golf and Country Club, which was founded as a 9-hole course in 1929. Thomas McBroom designed a new course in 1982 to replace the original, carving 18 spectacular holes from the Pre-Cambrian Shield to create a course perfectly suited to entire a new century even as the Club fondly preserves it traditions.
"Our course is very tight, only 6,000 yards from the tips, but we like to say it's the best 6,000 yards you'll ever play," says Robinson. With a premium on accuracy, the course tests every club in one's bag. It's a definite challenge—one usually associated with championship length courses.
Fall rates begin October 1st ($50 for 18 holes, $32 for 9), just in time to appreciate the fall colours. You'll want to pause for a few moments at the tees on the 8th and 15th holes: from these elevated tee boxes you get great views of a landscape of oranges, reds, and yellows. For many golfers the 18th hole is equally popular because it means they're minutes away from retiring to the comforts of Fairways Bar and Grill.
Seguin Valley Golf Course is a rare-blend of a course that blends exhilarating holes that make you want to dive into the challenge with picturesque views forcing you to take just a moment to enjoy them. It also boasts a brand-new club house whose design takes a back seat to no one.
The course provides 18-holes that manage to complement the contours created by the geography of the Canadian Shield. Rather than attempt to completely tame the landscape, Seguin Valley incorporates its rugged beauty into the design. Golfers who play the course will experience fairways that twist and turn their way between woods marshes, through fields, and—in the case of the signature Hole 7—over a lake, even while admiring the views of wind-blown pine and rocky outcroppings thrusting from the earth for which the region is known.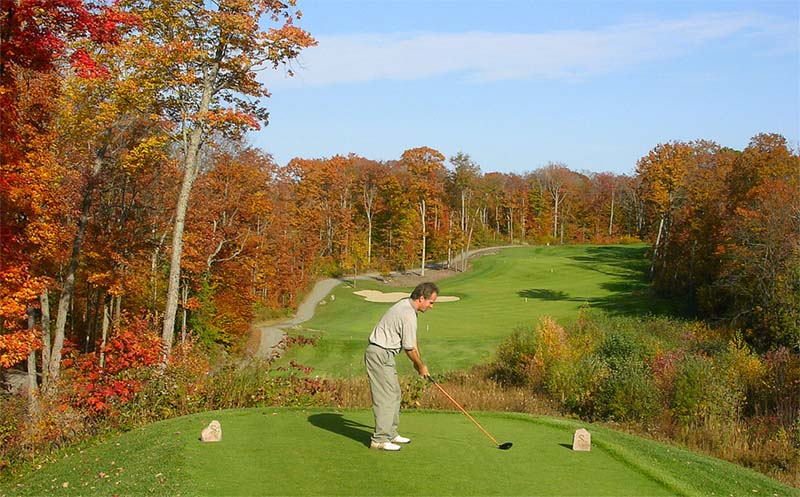 The course is playable by all skill-ranges. Many casual golfers are thankful that there is no over-use of bunkering to frustrate an enjoyable time, but at the same time several holes place a premium on accurate iron play so as to present a challenge for even die-hard golfers.
While the play of the course has been thrilling golfers for a decade, what excites Manager Gail Burrows most is the clubhouse, unveiled in 2014."The clubhouse is a beautiful timber-frame building perfectly in keeping with the character of the region. It's warm and inviting yet elegant, completely in keeping with the feel of cottage country" " she enthuses.
The expansive banquet room, combined with the natural surroundings, make it a truly scenic venue—the perfect setting for a perfect day. In tandem with a number of meeting rooms, the banquet room also makes Seguin Valley an ideal setting for corporate functions.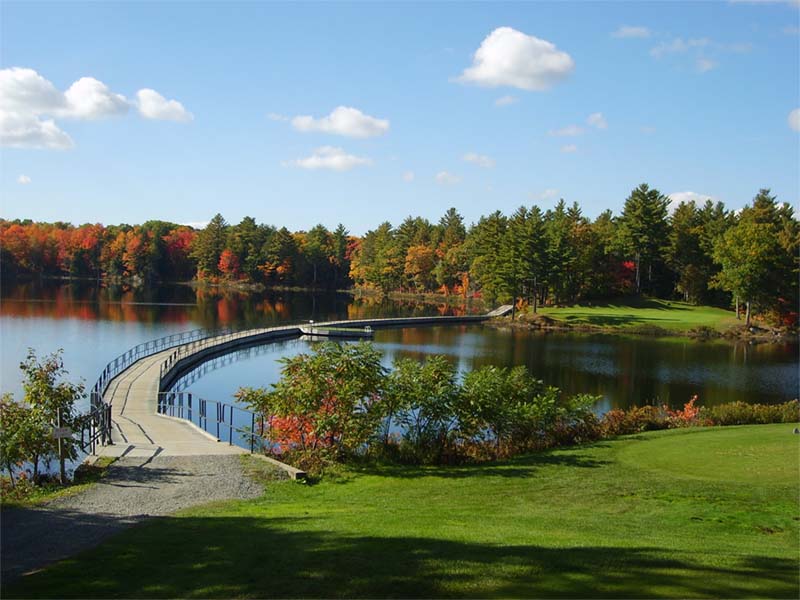 No golf course in Parry Sound screams Cottage Country louder than The Rock in Minett The course's very name hints at how greatly it has been defined by the granite of the rugged Canadian Shield for which the region is famed.
The course was built in 2004, and thanks in large part to the amount in which rock outcroppings came into play was notoriously challenging. Extensive renovations in 2007—to the tune of $6 million— saw the six most difficult holes reimagined to make it a softer, fairer course. The result is a more playable course, yet one which retains the atmospheric elements for which it was named.
Two holes exemplify what the Rock is all about, according to Director of Golf Rob Wilson: "The 10th hole, a short par 4, has fantastic scenery and a huge rock outcropping. In the autumn the trees behind the hole are spectacular with flaming red leaves. The 14th hole is even more dramatic—it has a crazy cliff that offers a view that's just unreal, especially in October when the leaves turn."
October rates offer another reason to golf at The Rock. They range from $85 open to noon on Fridays and Saturdays, to as low as $55 after 2pm Sunday through Thursday.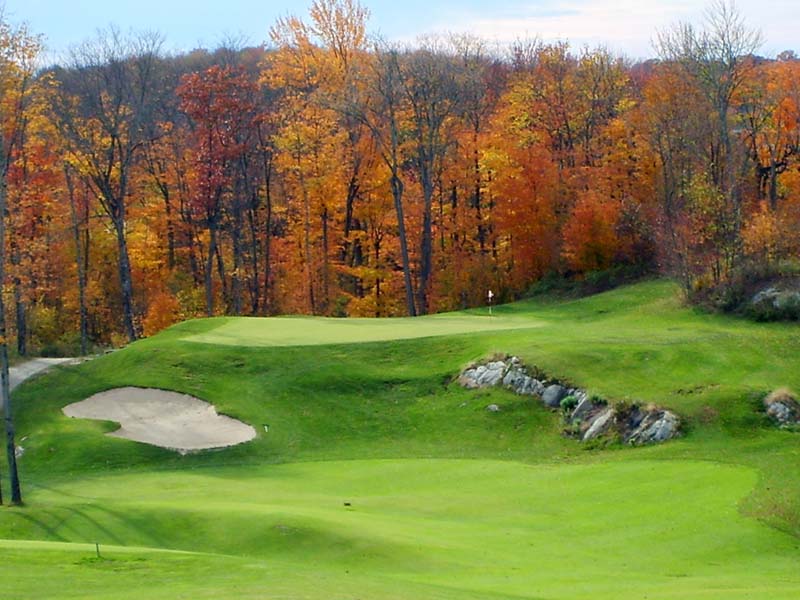 With its immaculate grounds and views looking out onto picturesque Lake Manitouwabing, it's easy to see why The Ridge at Manitou is known as one of Parry Sound's premier golf facilities.
"The layout is one of Thomas McBroom's best, flowing nicely from hole-to-hole," says Drew Rachar, General Manager and Course Supervisor at the Ridge at Manitou. "It's challenging but fair. What people like is the fact that there's separation between holes, so you don't always see the next hole which creates the illusion that you're really on your own."
With an eye towards encouraging play next year, course has unveiled a new opportunity almost too good to pass up. If you purchase a 2016 Ridge Passport now you play the remainder of 2016 free. And, in an attempt to lure entire families to the club for an afternoon on the links, you can add a child to a Ridge Passport for a fraction of the cost of a regular Passport.
The Ridge at Manitou began as a vision shared by a group of Manitouwabing Lake cottagers several years ago: they foresaw a golf course with the finest of facilities blending harmoniously with the nature that attracted them to cottage in Parry Sound in the first place. When their collective vision was realized, the result was something special indeed. The course is hewn out of the Canadian Shield and flows through rock, forest, and meadowland. Playing over 6,800 yards from the back tees, the Ridge is best described as challenging enough for accomplished golfers, yet forgiving enough for novices.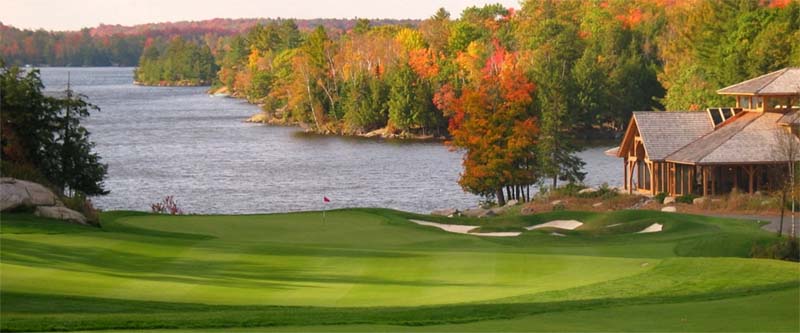 After an enjoyable afternoon on the greens, retire to the clubhouse which has the warm yet refined feeling of stepping into an exclusive cottage. There are several dining options at the Ridge at Manitou, something for every budget or taste. A screened in porch provides a casual place for golfers to unwind and enjoy a few drinks after a day on the links. Enjoy casual dining inside in a bar and adjoining lounge built around a three-storey stone fireplace, or perhaps opt for the clubhouse's casual fine dining restaurant with its floor to ceiling windows. From your dinner table, you can gaze out onto the mirror-still waters of Lake Manitouwabing and admire the fiery foliage reflecting on its surface. Finally, the the sun dips behind the fiery landscape, drawing to a close the perfect autumn day.
Best of all, you can be home in Toronto before bedtime thanks to the Ridge's Fly in Golf program, wherein you hop aboard a float plane at Toronto's Island Airport to be dropped off right at the club's dock for a great round of golf and a fantastic meal, returning in the same fashion at the end of the day.
Fall rates begin September 21 ($80 for 18-holes, $60 twilight, and $40 for 9-holes). Closing out the season is a Thanksgiving buffet on Sunday October 11, with all the fixings of a traditional Thanksgiving dinner—turkey, ham, pumpkin soup—for $34.95.
The Ridge at Manitou exemplifies golf in Parry Sound as a whole: world-class golf paired with stunning wilderness and warm clubhouse hospitality.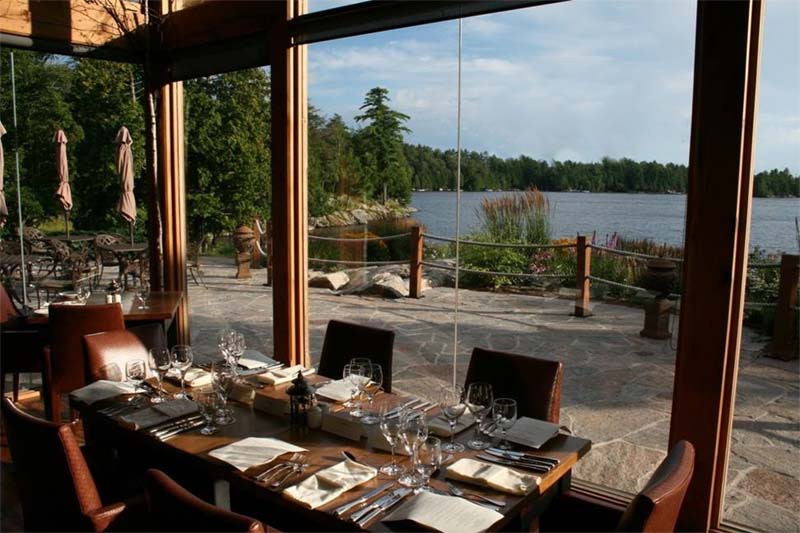 Make it a weekend getaway and find a hotel nearby. Add one one of these great tours and attractions to your getaway to the Parry Sound region of Explorers Edge.
Explorer Tip
Parry Sound hugs the shores of the world's largest freshwater archipelago, known as the 30,000 Islands. In 2004,UNESCO designated the area as a World Biosphere Reserve, the Georgian Bay Biosphere Reserve.
Let us help you plan your next fall vacation. Visit today and explore the world's largest freshwater archipelago, known as the 30,000 Islands. Explore, Eat, Stay, Discover Parry Sound, Ontario Georgian Bay.