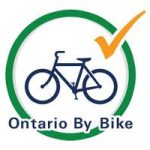 Parry Sound is now the newest Ontario By Bike region!  Businesses in the Parry Sound area are working hard to get "Cyclist Ready", and our community is now  represented on ontariobybike.ca.
Businesses will become certified bike-friendly, and you will see route suggestions and all sorts of wonderful things for cycling enthusiasts!
As a visitor to the Parry Sound area, or a user of the trails in the are, we'd love to hear your thoughts! Do you have a favourite biking route? Have some amazing images to share with us? Bike routes?  We'd love to see them! Email them to us at visit@parrysoundtourism.com or post them on our page on Facebook!
Special thanks to Peter from Pedaling for Parkinson's for reaching out to Ontario by Bike, and to Explorer's Edge as well as many other local businesses for bringing this great initiative to Parry Sound!
If you are an area business and would like to be a part of Ontario By Bike in Parry Sound, please Sign Up by visiting the Ontario By Bike site.