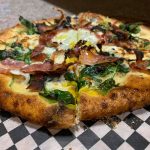 How you can support Parry Sound area businesses during coronavirus precautions.
Here's a list of local businesses that are still open to serve residents in these challenging times. If you'd like to show support for these businesses, consider a purchase of gift cards, online shopping or takeout/delivery options. If your business isn't on the list, let us know the details and we'll get you added.
For those businesses that have made the tough decision to temporarily close, let's show them some love! Call or send notes of encouragement and your plans to shop with them when it's safe to reopen. #shoplocal
Please check with each establishment before ordering due to potential changes.
Where to Eat: Take-Out, Patio Dining, Delivery & Gift Certificates
Boston Pizza – Take out, Patio or Delivery.
Crossroads Restaurant  – Takeout, Patio
Craganmor Point Resort – Takeout, Patio
Brunswick Take-out and curbside pick up.
Blake's Memories of Muskoka – Take out and Delivery.
Boston Cafe – Take out and delivery.
Don Cherry's – Take out, Patio and Delivery
Gillys Snug Harbour – Take out
Trappers Choice Restaurant  Take out, Patio
Log Cabin Fine Dining Take out, Patio
Maurizios Take-out. At Maurizio's on Thursday they have $10 pizzas!
Orr's Fine Meats & Deli! – Dine-in closed. Limited entry. Curbside pickup and free delivery available.
Jimmy's at the Duck Rock – Take-out. View the menu.
Loretta's Bakery – Pickups Tues-Fri 10am-12pm, Parry Sound delivery Fridays.
Mrs. Wilson's Kitchen Pre-Order Pre-Pay Pick it up Available. Home-baked goods, as well as keto menu items, home-cooked!!
Norse Brewery – Delivery – Call for details.
Trestle Brewing – Retail store open,  Online Shopping 24/7, local delivery and shipping, Take-out and curbside pickup and patio dining available.
Gift Certificate Available
Wellington's Pub & Grill
Restaurant Temporary Closures
Wellington's Pub & Grill
Local Food: Visit Summer Market Vendors Online: Shopping and Local Pick Up & Delivery
Thomspon Valley Farm – Fresh baked goods (pies, cakes, bread, buns, tarts, cookies), and other homemade goods. Delivery, curbside pickup.
B. LePage Fishery – Fresh and frozen fish (lake trout, whitefish, herring(smoked), pickerel, pickerel checks, perch, smoked rainbow trout, smoked lake trout, and smoked whitefish) – all from Georgian Bay. Call for up-to-date service availability.
Where to Shop:
Bearly Used Books
Above & Beyond Your Expectations
B. LePage Fishery
Beverlys
Crofters Food
Dainty Delights
Hilltop Interiors
Huckleberry's
4 Sports
I Branched Out
Just Icing Boutique
The Linen Closet
Middle River Farm
Moon River Apothecary
Myranda Fine Art & Decor
McKellar Art Gallery
Parry Sound Bikes
Parry Sound Golf & Country Club
Perfectly Pampered
Red Canoe Interiors
The Ridge at Manitou
Rosseau Road Enterprises
SiSi Georgian Bay
Trysport
Pardon My Garden Florists
Unique Reflections
Wolf Den
White Squall Outdoor Store
Where to Stay: Gift Certificates for Future Visits #CottageCountrySafeStays
Aisling Lake House
Bayside Inn
Belair Cottages
Craganmor Point Resort
Dillon Cove Marina & Resort
Duck Rock Resort
Four Winds Cottage Resort
Glenn Burney Lodge
Green Acres Resort
Glenwood Resort
Grand Tappattoo Resort
Harmony Outdoor Inn
Horseshoe Lake Camp and Cottages
Jolly Roger Parry Sound
Lakeview Cottages
Log Cabin Inn – Cabin rentals available.
Mill Lake Cottage Resort
Parry Sound Inn & Suites
Rosseau Retreat Bed & Breakfast
Parry Sound KOA
Pleaasant Cove Year Round Resort
Rocky Crest Resort
Rockpine Resort
Rockwood Resort
Sand Bay Resort
Seguin Valley Golf Club
Shebe Resort
Shebeshekong Resort
Silver Lake Cottage Resort
Star Lake Cottages
Snug Haven Resort
Sunny Point Cottages & Resort
Terrawoods on Muskoka Shores
Town and Country Motel
Trappers Inn
Travellers Inn
Wawanaisa Resort
Things to Do: Gift Certificates for Future Visits
Bear Claw Tours
Black Feather Wilderness Adventure Company
Bobby Orr Hall Of Fame
The Festival of the Sound
Georgian Bay Adventures
Georgian Bay Airways
Georgian Lanes
Henry's San Souci
Ice Palace Golf Simulator
Island Queen Cruise
Georgian Nordic Activity Centre
Ontario Sea Kayak Centre
Sail Parry Sound
The Charles W. Stockey Centre
West Parry Sound Museum
MV Chippewa III
Humphrey Museum
McKellar Historical Museum
Art Galleries and Studios: Online Shopping and Future Visits
Artistic Endeavours
Oil and Water Colour Floral Paintings by Bert Liverance
Elizabeth Steinebach Stained Glass
Georgian Bay Fibre Co.
Jessica Vergeer Studios
Killbear Pottery
Muddy Handshake Pottery
Marc DeGroote: The Great Art Studio
Northwinds Pottery
Spiral Stained Glass
Parry Sound Arts & Crafts Association
Riverware Pottery
Thom Morrisey Photography
Strawhouse Gallery McKellar
Toad Hill Pottery
Trilogy of Art
Marinas
Big Sound Marina, Parry Sound
Beacon Marine, Pointe Au Baril
Carling Bay Marina, Carling
Crane Lake Marina, Seguin
Dillon Cove Marina, Carling
Desmasdon's Boat Works, Pointe Au Baril
Dunchurch Marina, Dunchurch
Georgian Bay Marina, Seguin
Glenn Burney Marina, Seguin
Glenwood Cottages and Marina, McKellar
Halls Cottages and Campsite Marina, Parry Sound
Harris Lake Marina, Pointe Au Baril
Harrison Landing Marina, Carling
Holiday Cover Marina, Seguin
Horseshoe Pines Marina, Seguin
Killbear Marina, Carling
McKellar Marine, McKellar
Otter Lake Marina, Segiun
Parry Sound Marine, Parry Sound
Payne Marine, Pointe Au Baril
Point Pleasant Marina, Seguin
Rose Point Marina, Seguin
Seguin Marina, Humphrey
Sound Boat Works, Parry Sound
Tait's Landing Marina, McKellar
Wasauksing Marina, Parry Island, Wasauksing First Nation
Charities to Support
Rotary Club
Park to Park Trails
Georgian Bay Biosphere
The Festival of the Sound
The Friends of Killbear
PSSD 10